We work to educate ourselves, the Chapel of the Cross, and the wider community on ways to support a sustainable quality of life for current and future generations. With this in mind we created a recycling and composting initiative at COTC that diverts thousands of pounds of waste from the landfill each month.
Our work is growing and we welcome new members! If you are a parishioner who shares our concern for the care of God's Creation and wants to learn more about actions we can take to protect our environment, please consider joining. We host a monthly evening meeting. Sign up to receive our monthly newsletter here.
To learn more about the Creation Care Committee, read our vestry approved Goals and Strategies and contact Neil Pedersen, our committee chair, to find out how you can get involved.
Lenten Challenge
If you would like to do something a bit different this Lent, we have just the thing for you! Join us this Lent in a friendly game of positive actions that you can take to care for the environment. Look for our scorecard to be available in the church and on the website. There will be many fun things to try and most of them are not difficult. Click here for all the details.
Recycling
Why recycle? Recycling diverts reusable materials from the landfill and reduces the need for extraction of new materials such as aluminum or steel. The recycling industry provides material for manufacturers in North Carolina and jobs. In 2018 China stopped accepting low-quality recyclables from the U.S.; since then, it's been increasingly important for collected recyclables to be high quality—no food contamination, plastic bags, or unaccepted items. When in doubt, throw it out!
The Chapel of the Cross Recycling Initiative – Our parish uses curbside recycling provided by Orange County Solid Waste. Recycling is encouraged and collection bins are placed in the kitchen, classrooms, and offices. We strongly encourage all groups who use our parish hall and kitchen to recycle according to Orange County guidelines.
Local Recycling Programs
Composting
Why compost? "Composting is recycling! Composting is the natural process that decomposes yard waste and food waste to make a brown, crumbly soil additive that enhances the health of your lawn and gardens…helps soil retain moisture, reduces run-off, and naturally increases nutrient content to help sustain healthy plants" (source). Composting also helps to reduce methane gas emissions from landfills. Methane gas and carbon dioxide (CO2) are produced by landfills due to the decomposition of organic material. Methane is a very potent contributor to global warming as it traps heat more effectively than CO2.from landfills (source).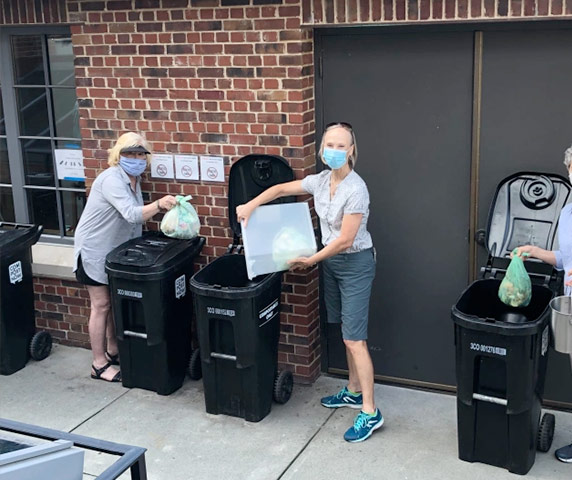 Composting at the Chapel of the Cross – The Creation Care Committee created a "Waste Not" initiative to divert food and other organic waste from the landfill through composting. Thanks to support from church staff and the parish, it has been a great success! We have been meeting the volume of compostables required for no-charge curbside pick-up. We encourage any groups who use our kitchen and parish hall to use our bins for compostable food and other waste. Home collection bins are available for purchase from our Parish Life Coordinator, Ellen Cole. Parishioners are encouraged to drop off compost at the church (bins located in front of gate to playground entrance), at community compost drop-off sites (scroll down to "Residential Food Waste Drop-Off") or to compost at home.
Quality of compostables is critical to this program's success! Please consider reviewing and printing out the following as helpful guides to avoid contaminating our compostable waste!
Home Composting How-To Guides: