Clergy Program Staff Administrative Staff Nursery & Playground Staff
---
Clergy
The Reverend Elizabeth Marie Melchionna, Rector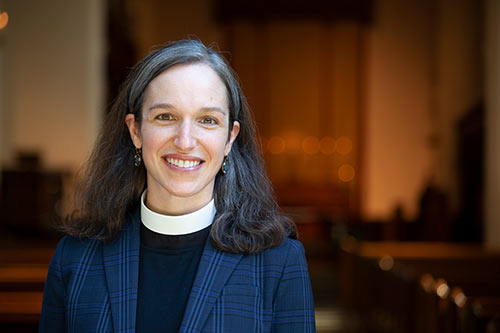 The Rev. Elizabeth Marie Melchionna began serving as the 29th Rector of The Chapel of the Cross in August of 2016.
The Rev. Melchionna (pronounced mel-shio-na) is a native of Roanoke, Virginia. She has always felt curiosity about God and how encounters with God shape people's lives and communities. This curiosity led her to study and work both domestically as well as in Madagascar, England, New Zealand, and Thailand.
After working in outdoor education and leadership development, Mother Elizabeth Marie began her ordained ministry as a Luce Scholar teaching at Payap University and facilitating interfaith dialogue at the Institute for Religion, Culture and Peace, Chiang Mai, Thailand. Always serving with an attentiveness to leading for healthy change, Elizabeth Marie has worked as a parish priest at St. Mary's in Arlington, VA and as the Davidson College Episcopal Campus Minister and Associate Rector at St. Alban's in Davidson, NC. Most recently she served as the Canon for Discipleship and Parish Life at St. John's Cathedral in Denver, CO.
Elizabeth Marie holds degrees from Davidson College (magna cum laude) and Yale University's Divinity School (summa cum laude). Additionally, she holds graduate certificates in Anglican Studies (Berkeley Divinity School at Yale), Liturgy (Yale Institute of Sacred Music), and Conflict Transformation (Eastern Mennonite University).
As Rector (senior pastor and chief of staff), Elizabeth Marie gets to engage nearly every aspect of life at The Chapel of the Cross, from preaching, teaching, pastoral care and leadership development, to budgets, administration and financial stewardship. She is passionate about worship and music, the process of formation for all ages (informed by putting our faith into action), creating systems for healthy change, and in cultivating leaders who know, love, and follow Jesus.
Elizabeth Marie and her husband, North Carolinian Will Roberts, parent three wonderful sons.
Email The Rev. Elizabeth Marie Melchionna
---
The Rev. Mary Catherine Young, Associate Rector for University Ministry
Chaplain Mary Cat has been serving as a campus and young adult minister for over 20 years. In her previous role as Chaplain to Canterbury Downtown (2011-2019), she ministered with students from NYU and surrounding campuses in Lower Manhattan. During that time she also served as the Coordinator of the Young Adult Network in the Diocese of New York and organized city-wide 20s-30s events with parishes across four boroughs of New York City. Before moving to New York with her husband Chad (UNC '96), Mary Cat was a priest on staff at Church of Our Saviour in Rock Hill, SC for five years where she served as youth minister and founding chaplain of WELCM: Winthrop Episcopal Lutheran Campus Ministry. The Youngs have a daughter named Dorothy Sue.
Email The Rev. Mary Catherine Young
---
The Reverend Keith Esposito, Curate
Keith grew up in the small town of Ledyard, CT. He graduated from Boston University in 2011, where he studied Religion and International Relations. Afterwards, he joined the United States Peace Corps and served in Ukraine where he taught English and led youth development projects. Returning to Boston, he studied at Harvard Divinity School where he received his Masters of Divinity in 2018. Before pursuing ordination, Keith's career was in higher education administration, and he has worked in various offices at Boston University, Harvard University and Wake Forest University. Most recently he completed a Diploma in Anglican Studies at Virginia Theological Seminary in May 2022. Keith cares deeply about contextualizing the Episcopal tradition to our contemporary world, sharing his faith and doubts, and engaging with the wider community and world. He and his spouse, Robin, have a son and are excited to be back in North Carolina
---
The Reverend Dr. Karen Connor McGugan, Curate
The Rev. Dr. Karen Connor McGugan grew up in Greensboro. From a young age, she felt both a strong sense of empathy and a deep grounding in the life and rhythms of the Church. She spent four joyful and formative years in Chapel Hill (B.A. Religious Studies, highest honors, 2008), where she became fascinated with how ancient Christians read and understood Scripture. Karen then headed north to Yale Divinity School (M.A.R. Biblical Studies, summa cum laude, 2012) and eventually to Harvard University (Ph.D. New Testament and Early Christianity, 2020). Her doctoral dissertation, Suppers in the Times of the Kingdom: Food, Drink, and the Resurrected Body in Early Christian Thought, explores how the anxieties and griefs of life in antiquity shaped how early Christians imagined the resurrected human body.
In 2019, Karen moved home to North Carolina and began the ordination process. Throughout her time in formation, she served as Worship and Pastoral Care Coordinator at Christ Church Raleigh and as a chaplain at UNC Rex Hospital. She was ordained to the Transitional Diaconate in the summer of 2023, and is excited to grow with the COTC community towards a faith that is contextual, compassionate, and rooted in Christ's sacramental presence.
Karen lives in Raleigh with her spouse, Will, two wonderful children, Clay and Catherine, and a small menagerie of furry and scaly creatures.
Email The Rev. Dr. Karen Connor McGugan
---
The Reverend Scott Balderson, Deacon
Scott Balderson came to the area after completing his training as a Physician Assistant to join the Division of Cardiothoracic Surgery at Duke University in 1998. His specialty is minimally invasive thoracic surgery in patients with lung cancer, esophageal cancer and other malignancies of the chest. Scott, while active as a parishioner, spent a long time in discernment before entering the deacon formation process. His ordination to the diaconate was in 2017. His work with oncology patients is very much part of his diaconal ministry to serve with one foot in the Church and one foot in the world. Scott and his wife Christina are both natives of Virginia Beach, Virginia having grown up together attending the same Episcopal Church. They started dating in high school and were married in that church in 1992. They have two children, Carter and Isabel.
Email The Rev. Scott Balderson
---
The Rev. Jim Tucker, Priest Associate
The Rev. James Thomas Tucker (Jim), the oldest of 8 children, grew up in Liberia, Africa, where his father was an Episcopal priest and his mother an educator. The family moved back to Texas when he was 6 years old. He graduated from the University of Texas in 1974 and from Virginia Theological Seminary in 1981. He has worked in a variety of churches in the Houston area. Jim started his career as assistant rector of St. Peter's Episcopal Church in Pasadena, Texas and as associate rector of Palmer Memorial Episcopal Church in Houston, prior to moving to the Episcopal Church of the Epiphany, where he was rector for 17 years. Jim retired in 2013 to move to Chapel Hill with his wife, Ginny, when she relocated here for work. Ginny sings in the choir here at the parish. Jim and Ginny have two grown sons, John and David, each of whom (with their respective wives) has produced an adorable granddaughter: Tyla and Maddie.
---
The Rev. Dr. Beth Humphrey
The Rev. Dr. Beth Humphrey joins us as a non-stipendiary Priest Associate effective June 1st. She brings with her a depth and breadth of intellect and wisdom, having earned her Ph.D. in Chemistry at The University of North Carolina and worked as a NASA Chemist and college chemistry instructor. Her work in ministry led her to serve as a Director of Christian Formation in Alabama, and then to a rich career in School Chaplaincy, both at St. Albans School in D.C. (Lower School and Upper School) and the Groton School in MA. The Rev. Dr. Humphrey received her M. Div. from Sewanee (where she won the Holmes Excellence in Preaching Award). She is married to Jonathan Glazier and together they share five children and five grandchildren. We will look forward to welcoming her into pastoral, teaching, and liturgical ministries.
---
Program Staff
Joseph Causby, Director of Music and Organist
Joseph Causby is the Director of Music and Organist of the Chapel of the Cross, and the immediate Past President of the Royal School of Church Music in America. Prior to his appointment in Chapel Hill, Joseph served Episcopal parishes in Texas, building active intergenerational programs which encouraged musical excellence and spiritual depth. Under his leadership, his choirs took part in three international English Cathedral residencies; performed major works with orchestra; and recorded and broadcasted LIVE on NPR and PBS.
As a passionate collaborator, Joseph has formed relationships with universities and international organizations including Snape Maltings Friday Afternoons project, the Royal Academy of Music, Cambridge University, Duke University, the University of North Carolina, and the Ackland Museum. As a frequent guest artist at Duke University Chapel (home of RSCM America), Joseph plays the organ for special services, guest conducts the Duke Evensong Singers, and teaches the chapel's organ scholars.
In the summer of 2024, the Choir of the Chapel of the Cross will serve as 'choir-in-residence' at Ely Cathedral (Cambridgeshire) and the Temple Church, London. The Chapel of the Cross's music program has enjoyed steady growth over recent years and welcomes children, youth, college students, and adults of all ages.
As an organ recitalist, Joseph has given concerts in the United States, Canada, England, and France. In 2019, he was a featured speaker for the 100th Anniversary of the founding of the Choir School of St. Thomas Church, Fifth Avenue, New York City. His dissertation, Who dares stand idle? Thomas Tertius Noble, a life in church music, 1867-1953 was completed in 2015.
A native of Morganton, North Carolina, Joseph holds a BMus from Appalachian State University, an MMus from Rice University, and a PhD from the University of Durham (UK), where he also served as the first American organ scholar of Durham Cathedral.
---
Boykin Bell, Director of Christian Formation
Boykin graduated from Wellesley College with a B.A. in Philosophy and a focus on medieval writers. She received an M.A. in Philosophy from the University of South Carolina, where she worked at the South Carolina Center for Bioethics. Boykin has worked at the Chapel of the Cross since 2006, in both Children's and Adult Formation. Her writing – faith-focused and short fiction – has appeared at Building Faith, Episcopal Relief and Development's Lenten Meditations and various little magazines.
---
Administrative Staff
Diane McOmie, Parish Administrator and Stewardship Coordinator
Diane has over 25 years of experience in stewardship operations and fundraising programs in higher education and independent schools. Her most recent positions included those at the Air Force Academy Foundation in Colorado Springs and Rice University's Shepherd School of Music in Houston. Diane also served as Director of Development at TMI Episcopal in San Antonio. She has two adult sons, one living in Durham and the other in Los Angeles. A Texas native, Diane moved to Durham recently and enjoys hiking, kayaking and exploring her new home state of NC!
---
Jeff Crawford, Communications Manager
Jeff has been rooted in the Chapel Hill area for over twenty years and has served several local churches, including the Gathering Church and Oak Church in leadership and directing music. He is passionate about forming community and telling stories, reaching back to writing for The Daily Tar Heel in college to his current work producing several podcasts. Jeff is a musician who has operated Arbor Ridge Studios in Chatham County for over fifteen years and is mostly retired from a touring career in several bands traveling all over the country and overseas. He lives with his wife Molly and two children in Chatham County.
---
Ellen Cole, Parish Life and Worship Coordinator
As Parish Life and Worship Coordinator, Ellen works with pastoral, engagement, fellowship, worship, administrative, outreach, and Christian education staff and volunteers. Her duties include newcomer integration, volunteer engagement, parish registrar, liturgical scheduling and logistics, and general database management.
Ellen is a North Carolina native. She and her husband, Russ, are members of the parish and raised their two children, Janie and Ben, in the pews and parish hall of the Chapel of the Cross.
---